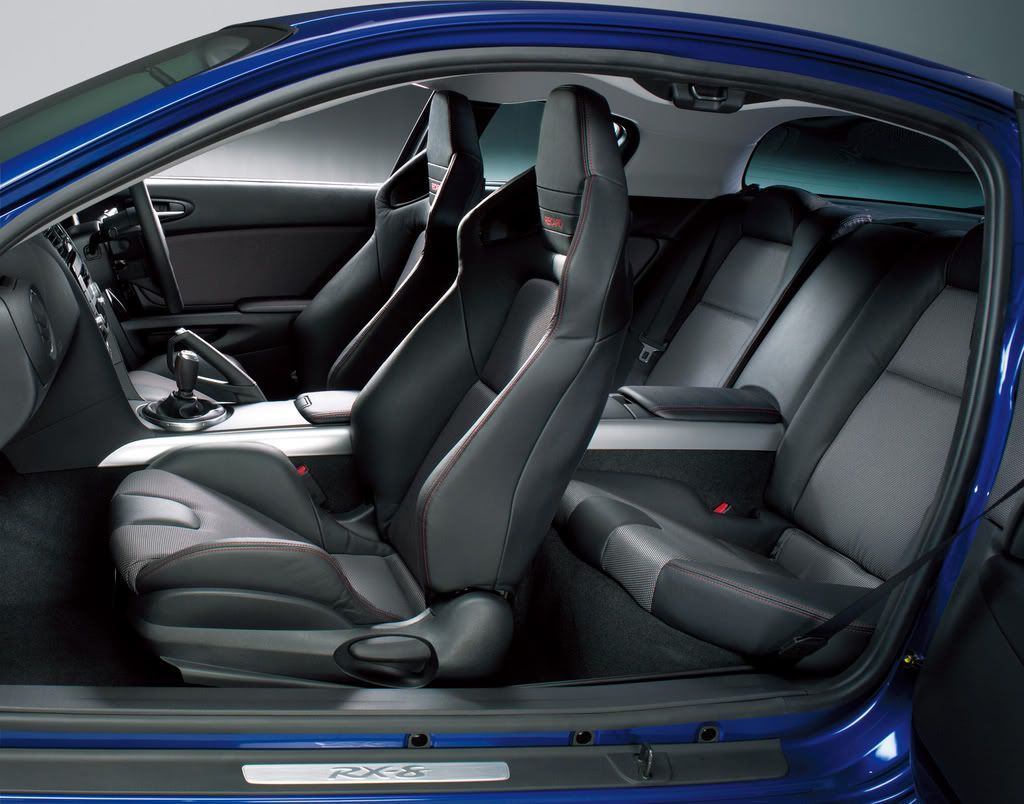 click for pics of it's behind
http://www.rx8club.com/attachment.phpat ... 1200015954
the upgrade looks ok but that spoiler make look not quite factory if that makes sense.. it looks kind of out of place,kind of like it was customised by mazdaspeed or an aftermarket company.. i guess it will grown on me and ill end up liking it.in saying that it the car has this agressive look that I have to say i am a big fan of on the car minus the wing even though the shape doesn't flow as well as the old one,the touches that they have given the exterior to add visual grunt and appeal especially the wheels and tail lights...they did try very hard to change it and there wasn't much they could play with.A prime example of mazda making the best to better was the s6 transformation into s8 was showing that mazda does have the capabilities to perfect perfection...
but question reamins this time did they make it better or worse..looks good and i have to say i am a big fan of the new rims and tail lights..if i had the old rx8 i'd be waiting 6 or so months or putting in the word to tempe/ozzy tyres that if anyone with a new rx8 comes in to buy rims(and that will definately happen)that you'd buy their wheels and or alternatively try ebay to track down a set of those wheels once the car comes on the market..the whole rotor wheel is crazy and i love it,blends well with the current model rotor seats,shame they didn't keep them
More pics here...
http://www.motorauthority.com/news/coupes/revealed-2009-mazda-rx-8-facelift/
Here's the blurb from smh.com.au
Quote:
Sharper Mazda RX-8 heralds new flagship
Jez Spinks, drive.com.au, 11/01/08

*
*



A more aggressive-looking RX-8 arrives mid-year along with a new flagship model that is lighter and faster, reports JEZ SPINKS.


Mazda Australia will introduce a lighter, faster RX-8 flagship as part of the rotary-engined sports car's first major update.

The new range-topping model will be based on the RX-8 RS that has leaked on internet sites ahead of its debut at this weekend's Tokyo Auto Salon.

The RS itself adopts subtle visual enhancements on top of the RX-8's revised front and rear styling that will be showcased at next week's Detroit motor show before both models reach Australia mid-year.

A rear spoiler and larger, wishbone-style alloy wheels are added to the new four-door coupe's more aggressive front end, which features wider and deeper grille and side air intakes. New headlights, tail-lights and body-coloured bottom rear bumper complete the other major visual changes.

The range-topping RX-8 will share the same, carried-over 177kW rotary engine as the regular model, although improved performance and handling will be achieved through less weight and an uprated suspension.

Mazda will remove some luxury specification – such as Bose stereo and sunroof – to shed about 50kg from the RX-8's kerb weight to ensure it's the fastest-accelerating model in the range. The RX-8 range-topper should break the six-second barrier in the 0-100km/h sprint, with the current model claiming 6.2sec.

Bilstein dampers will be fitted to take the RX-8 flagship's cornering ability to an even higher level, and body-hugging Recaro sports seats will help to keep the driver secure during cornering.

The new standard RX-8 will also despatch 0-100km/h faster than the outgoing model. Mazda has shortened the final drive ratio on models equipped with a six-speed manual for quicker standing-start acceleration.

A new six-speed automatic replaces the current RX-8's four-speeder, and power increases from 141 to 158kW – peaking 500rpm higher at 7500rpm. Torque, however, drops from 220Nm to 211Nm (same as the manual).

Mazda RX-8Mazda RX-8Mazda RX-8Mazda RX-8

Mazda Australia will use a combination of letters to designate the new flagship RX-8, although the RS badge used for the Tokyo Auto Salon edition has been ruled out. The MPS and SP performance badges used on current and recent Mazdas are also unlikely.

Pricing for the new RX-8 has yet to be confirmed but the flagship is likely to sit near the $60,000 mark. The current RX-8 is priced from $49,000 to $54,000.

Mazda Australia has sold more than 5000 RX-8s since the sports car launched in 2003, with a peak of 1639 in 2004. The company is hoping the revised RX-8 and flagship model can reach sales of about 1000 units a year.