Although i havent been posting much around here, im still lurking! Warning to all, these cars are nothing special compared to whats on these forums!
As a couple may recall, last time i popped in here, i had a S13 with a SR20DE with a couple small ricey mods. here it is pictured below: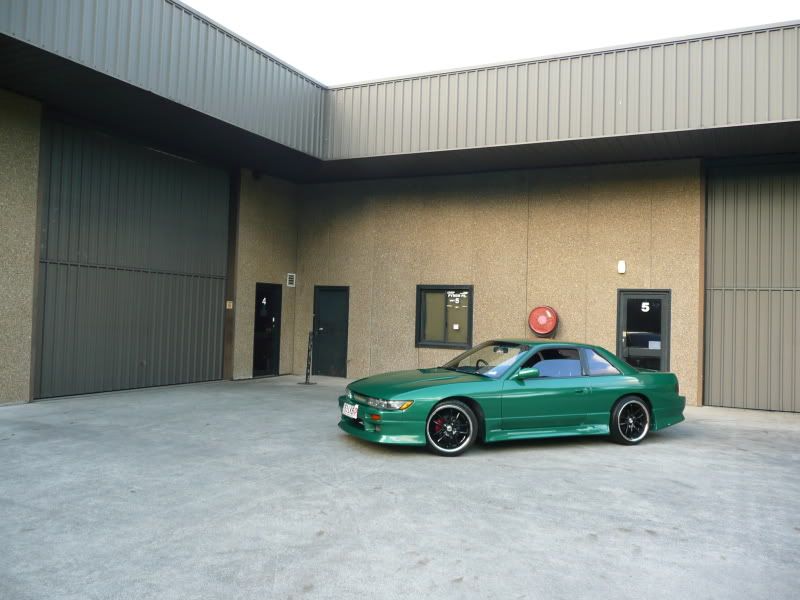 I bought it with only a few known of issues, and had to replace a few bits and peices here and there. As it was previously DE+T, it still had the 3in exhaust, FMIC piping that was bodged up to fit a pod filter, and other small issues such as an oil leak from where they blocked off the oil return line into the sump. Had a 2.25in exhaust fitted, along with a new cat and supercat cannon (i still like the cannon look), some shitty alloy piping for the pod (which improved the driveability tenfold) and fixed up the oil leak.
Shortly after spending a couple grand fixing issues, including buying new wheels (had Vault Krystals... the most disgusting wheel ever made..) it became apparent that she had indeed copped a hard life and the motor was cactus, developing a knock. Once it started knocking i decided to thrash the absolute tits off it (driving to work on rev-limiter a couple times) and tried to pop the good ol' SR20DE. this thing had me fucked. I couldnt pop it. the knock was so loud you could hear it before the exhaust, and the headgasket blew putting some excessive pressure into my cooling system, blowing the top hose and forcing water into the overflow bottle, causing it to explode. Drove it home without a top rad-hose and put her up in the garage to rip out the motor. It fucking beat me.
The recipient was a S14 SR20DE from good ol' jap-land. After researching the swap whilst trying to kill the S13 SR20DE, (fuck all info around really..) I decided to slap in the S14 DE whilst retaining the S13 ecu and loom. Only issue was going to be running the VCT solenoid.
To fit the S14 SR20DE into the S13 using S13 ECU and loom, ALL sensors from S13 DE need to be put onto the S14 DE other than the throttle body and obviously VCT solenoid. Swap went pretty straight forward, had to make up a new bracket for the throttle cable using the S13 bracket, run new coolant lines for the heater core, and other small issues. One thing that struck me as quite odd was the power steer pump. Because my S13 had a brand spanker on it, i wanted to use that on the S14 engine. It isnt a straight swap. the belt wasnt lining up, and the S14 pulley has 4 ribs, whereas the S13 pulley only has 3 ribs. (or other way around?) Swapped the harmonic balancer and power steer pump bracket from the 13DE to 14DE and problem was sorted. The rest of it was a bolt in affair, after fucking around with the auto pilot bush in the 14DE, and that sort of shit.
VCT solenoid is being run off a switch until i find somthing to pick up a tac signal to activate a relay at the required RPM. i belive Jaycar has a product for this.
A couple days after the swap, i took a good friend for a spin, and she decided she had to own it. I wasnt very keen on selling it because i couldnt find anything i really wanted around for sale, and i had just put in some hard work and $$$ to get the new engine in it. UNTIL she saw my future car for sale. Details are as follows.
Not even a week after i had finished the S13 engine swap, I was heading up to Port Maquarie to have a look at a car, a S14 Zenki with a SR20DE. Looked like absolute shit in the photos (all zenkis do as far as im concerned) but i saw it had a bit of potential. Took it for a test drive, noted some problems, dropped the price considerably, and the deal was done. My friend bought it, and i straight swapped her for my S13.
Details:
1994 S14 Silvia Zenki
5sp manual
Engine:...
SR20DE
HKS pod filter
2.25in exhaust
Suspension & Wheels:
Pineapples in rear subframe (apparently)
Pedders struts
Low King Springs all around
couple Nolathane front bushes
18" x 7.5" Sport Max rims (F)
18" x 9.5" Sport Max rims (R)
Interior:
multi-colour LED dash cluster
Aus-spec speedo (260kph)
some parts painted blue (gotta go...)
Exterior:
Vertex frontbar
unknown sideskirts
rear pods
ugly grille
Resprayed in Ford Blueprint blue
shaved wing
Sound:
Pioneer CD/MP3 headunit
Alpine Type S 6in components (F)
Alpine Type S 6in components (R)
Pioneer 12in sub
Pioneer 250wrms amp
0awg amplifier wiring kit
platinum RCA leads
think thats about it.
1st problem... running -5degrees camber on the O/S/R and -4deg on the N/S/R. not too big a deal. i do wheel alignments at work, so problem could almost be sorted. done that, but need camber arms still.
2nd problem - gauges inaccurate. wont read past 1/2 full on fuel, temp gauge sits up high (temp is ok though), car is 10-20kph out depending on speed. All due to the LED dash kit shit she installed to it. Should fix it tomorrow.
3rd problem - non turbo, 4 stud, open center diff... - can resolve 2 problems, but have to stay turbo for another 2 years... dammit..
couple small other issues, but all easily sorted (hopefully.)
Since buying it, ive fixed the camber issue a bit, put my old rims back on, tinted the taillights (will do until i buy LED taillights.. i hate Zenki ones..) and painted the grille. not much really, but hopefully over time ill get some money spent on it.
Plans are to slap some coilovers in it, Nismo 2 way, swaybars, camber arms, Vertex sides and rear, and possibly Kouki front end. Long term plans are to build a nice DE for it including ITBs. Will see what happens. I want a really unique P plater car that goes well. I know everyone says spending money on a non turbo is a waste of time, but i still have another 2 years left on my Ps, i spent an assload on my previous non turbo car (Nissan Exa) and i dont regret a bit of it.
For any that read all that, i apologise. Had to fill in my Monday night. hahaha.
PICS: